Tokyo tower vs skytree Which One Should You Visit + Information for Visiting

Tokyo, Japan
by Coco Tran On September 19, 2023
Tokyo tower vs skytree : which one is best to visit 
Is your upcoming trip to Tokyo leaving you stumped on whether to visit the iconic Tokyo Tower or the newer, shinier Tokyo Skytree? Well, you've come to the right place. I'm comparing Tokyo tower vs skytree tokyo in this article! 
I'm here to settle this battle royale once and for all. Tokyo Tower and Tokyo Skytree both have their merits, but only one can emerge worth your previous vacation time! Let's break down how these towering titans stack up.

Tokyo Skytree Vs Tokyo Tower Comparison Table
Tokyo Skytree is best for:
Information about Tokyo tower vs skytree overview Statistics
Metric
Tokyo Tower
Tokyo Skytree
Height
333 m (1,093 ft)
634 m (2,080 ft)
Highest Observation Deck
249.6 m (819 ft)
450 m (1,480 ft)
Opened
December 23, 1958
May 22, 2012
Opening hours
9:00 am–11:00 pm (main deck),
9:00 am–11:45 pm (top deck)
8:00 am–11:00 pm
Number of decks
2
2
Visitors per year
About 2.5 million
About 4.2 million
Time from Shinjuku Station
About 25 minutes
About 40 minutes
Time from Tokyo Station
About 20 minutes
About 30 minutes
How much time should you schedule?
90 minutes–2 hours
2–3 hours

what is the price
check tokyo tower pricing
check tokyo sky tree pricing
Views That Will Leave You Speechless Tokyo skytree vs tokyo tower
First up the million dollar question:
which Tokyo tower vs skytree offers better views?
At 634 meters tall, Tokyo Skytree is nearly double the height of 333 meter Tower. You'll be able to see clear across Tokyo's immense sprawl from the top of Tokyo Skytree.
On clear days, majestic Mt Fuji peeks out in the distance. Tokyo Tower doesn't quite reach the same heights, but still treats you to a gorgeous panorama of Tokyo's downtown core. 
For those wanting a view that captures Tokyo's sheer scale, I'd give Tokyo Skytree Tokyo the edge. But tokyo Tower lets you get an up-close look at the bustling city streets below. Either way, prepare to be awestruck! 
Skytree Tokyo Tower vs Tower Tokyo Location: Surroundings That Bring Tokyo to Life
Now let's talk locations. Tower is situated right in the heart of Minato ward, within walking distance of lively neighborhoods like Roppongi and Shiba Park. Pop into local shops and restaurants after your visit.
Tokyo Skytree lies further north in Sumida ward. It's surrounded by a massive complex called Tokyo Solamachi, packed with shops, restaurants, and attractions like a planetarium and Pokemon Center. Venture outside and you'll find a more residential Tokyo neighborhood. 
For convenience, Tokyo Tower can't be beat. But Skytree lets you immerse yourself in shows, shopping, and local culture. I'd call it a tie here – choose based on what vibes you're looking for!
Which Towers Over the Competition in Fun and Flavor? Tokyo tower vs Tokyo skytree Japan
Alright, time to talk fun! Both towers offer exciting experiences beyond just the views. The Tokyo TowerJapan has an aquarium, local artisans selling souvenirs, and the world's highest Shinto shrine. Special events like light shows and haunted houses get hosted regularly too. 
Skytree Tower in Tokyo goes all-in on pop culture with official collaborations, exhibits about its design, and a Pokemon Center. The shops and restaurants get seriously creative – dine 340 meters up at the Sky Restaurant!
I'm all about that pop culture life, so Skytree wins for me. But Tower feels uniquely Japanese with its artisans, shrine, and aquarium. Go with your interests here!
The Legacy and History Tokyo tower vs Tokyo skytree:  New Kid on the Block or Tokyo Icon? 
For our final face-off – legacy. Tokyo Tower has been broadcasting TV signals since 1958. It's featured prominently in movies like Lost in Translation and shows like Yakuza 6. An iconic symbol of Tokyo's economic boom after WWII.
Tokyo Skytree Tower only opened in 2012, but locals voted to name it based on Tokyo's historic name. It blends modern technology with traditional architecture. Skytree is also the Guinness World Record holder for tallest tower! 
Tokyo TTower oozes nostalgic charm, but Skytree represents Tokyo today – tradition evolving into the future. For legacy, Skytree clinches the title!
The Moment You've Been Waiting For…
It's time. After going toe-to-toe across four epic categories, only one tower can claim the crown. By a score of 3-1….
Handsdown Tokyo Skytree is my pick
Though it was close, Skytree ultimately wins out with its record-breaking height, surrounding pop culture paradise, and embodiment of Tokyo's future. But Tower still stands proudly as an undisputed Tokyo icon.
tokyo skytree restaurants Vs Tokyo Tower Restaurants
In addition to observation decks, all three towers offer a variety of dining options if you get hungry during your visit.
Tokyo Skytree has the most extensive selection of restaurants, along with many causal eateries in the Solamachi mall at the tower's base.
Standouts include Musashi, a gourmet Japanese restaurant on the tower's 35th floor, and Tapas & Bar Milonga, offering Spanish cuisine with skyline views. For a unique experience, Sorakara-Chan Sky Restaurant has kawaii mascot character decor.
Tokyo Tower's FootTown area features all types of Japanese fast food like ramen, udon, and tempura. Visit Rinku Gate Tower Building's Tokyo City View observation deck on the 28th floor for the upscale La Vista cocktail lounge. Nearby, you'll also find fine dining at Benkei, famed for its traditional beef sukiyaki.
At Shibuya Sky, stopped at the Magnet by Shibuya109 food court for udon noodles and matcha parfaits after visiting the observation deck. While the eats are more casual, you can always head to the open-air rooftop bar once it opens at night.
Overall, Skytree probably has the most dining choices, but you'll find plenty of tasty options at all three tower complexes to refuel during your visit.
Trying the observation deck restaurants is a great way to enhance the experience. Just be sure to make reservations in advance since they are popular.
Visiting both lets you fully experience this megacity's non-stop innovation and rich history. So why not pay your respects to both these marvels of engineering? With views, attractions, shopping, and dining covered at each, you literally can't go wrong.
The Tokyo Skytree: An Engineering Marvel Defining Tokyo's Skyline
Rising 634 meters over the Tokyo metropolis, the Tokyo Skytree is an architectural feat that has redefined the city's landscape since opening in 2012. This neo-futuristic tower acts as Tokyo's primary broadcasting spire, but also provides visitors with spectacular panoramic views from its two observation decks along with plenty of dining, shopping, and entertainment options.
Let's take a deeper look at everything this landmark has to offer:
The Tokyo Sky Tree Tower Information
At 634 meters (2,080 ft) tall, the Tokyo Skytree is the tallest structure in Japan and the second tallest in the world after Dubai's Burj Khalifa. The height was specifically chosen to represent the historical name of the Tokyo region, Musashi.
The tower employs ancient Japanese aesthetic principles while incorporating cutting-edge design, with a triangular latticework structure inspired by traditional five-story pagodas. The skyscraper's elongated pyramidal shape allows it to withstand earthquakes.
Construction began in 2008 and finished in 2012 at a total cost of 65 billion yen. The Skytree now broadcasts digital television and radio signals across the expansive Kanto region after replacing the outdated Tokyo Tower.
The Tokyo Skytree Observation Decks
Two observation decks allow visitors unparalleled views: Tembo Deck at 350m and Tembo Galleria at 450m.
Tembo Deck has three levels – top level for panoramas, middle for dining at Musashi Restaurant, lower for cafe. Floor-to-ceiling windows offer stunning 360 degree views of Tokyo.
Tembo Galleria has a spiral ramp ascending around the tower's edge for vertigo-inducing views downwards from 450m up. The top overlooks all of Kanto region.
Fast, smooth elevators transport visitors between the decks which open from 10am-10pm daily. Tickets start from 2000 yen for Tembo Deck and go up to 3400 yen for both decks on weekends/holidays.
Tokyo Skytree Surrounding – Solamachi
At the tower's base is a vast commercial complex called Tokyo Solamachi, aimed to revitalize the Oshiage area.
300+ shops and restaurants span its impressive floors. The complex incorporates an aquarium, planetarium, and even a Pokemon Center.
Exhibits detail the Skytree's construction. The complex also has offices, residences, and a hotel.
Local shops and a morning market representing traditional Tokyo neighborhoods can be found outside Solamachi.
Tokyo Skytree Travel Information
The Skytree is located in Sumida City Ward, close to the Asakusa area. It's directly connected by Tobu Railway lines and Subway Oshiage Station.
Travel time is around 30-40 minutes from central hubs like Shinjuku or Tokyo Station. Direct buses from Haneda Airport take 50-70 minutes.
Official website has English info on directions, tickets, restaurants, and events. Advanced bookings can get discounted tickets.
Plan at least 3 hours to see both observation decks, exhibits, and shopping/dining options.
In just over a decade, the Tokyo Skytree has established itself as one of Japan's most recognizable landmarks and a must-visit attraction. Its sheer height and innovative design enable stunning views that show off Tokyo's massive scale. Combined with the entertainment complex at its base, the Skytree offers something for everyone and should not be missed when visiting Japan's capital
Tickets to Tokyo Skytree
The Tokyo Skytree is open daily with two options for purchasing tickets:
Same-Day Tickets Tokyo Skytree:
Can be bought at ticket counters on the 4th floor of Tokyo Solamachi.
During busy times, visitors may be assigned a 30-minute time slot to enter.
Prices:

Tembo Deck only: Weekdays 2100 yen, Weekends 2300 yen
Both decks: Weekdays 3100 yen, Weekends 3400 yen
Advanced Tickets Tokyo Skytree:
Can be reserved online for a specific date/time at discounted rates. Highly recommended to skip lines.
Prices:

Tembo Deck only: Weekdays 1800 yen, Weekends 2000 yen
Both decks: Weekdays 2700 yen, Weekends 3000 yen
Operating Hours of Tokyo Skytree:
The Tokyo Skytree is open from 8:00am to 10:00pm daily (last entry at 8:00pm).
The Tembo Galleria observation deck closes at 9:00pm.
The tower is open year-round, with no closures.
It's recommended to purchase tickets well in advance online to guarantee entry and get discounted rates. Expect to spend 2-3 hours minimum visiting both observation decks along with Tokyo Solamachi attractions on the lower floors. Keep the operating hours in mind when scheduling your visit to Tokyo Skytree.
how to get to Tokyo Skytree Directions
The Tokyo Skytree is very accessible by public transportation, located just a short distance from major rail stations. Here are some of the easiest ways to reach the tower:
Getting To Tokyo Skytree by Trains:
Tobu Railways Skytree Line connects directly to Tokyo Skytree Station, which is at the base of the tower. Trains run frequently from major hubs like Asakusa Station.
Tokyo Metro Hanzomon Line and Toei Subway Oshiage Line stop at Oshiage Station, linked to Tokyo Solamachi and just a 5-10 minute walk across the Sumida River from Skytree.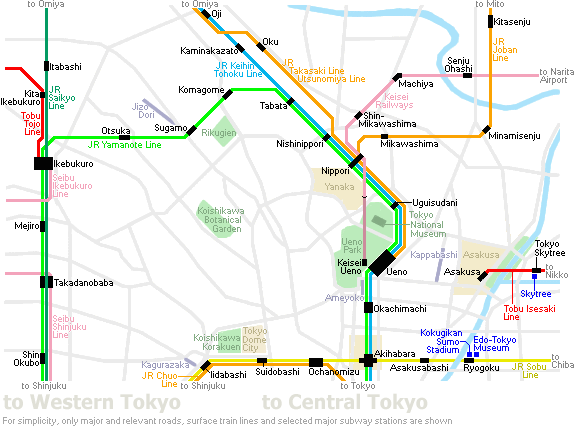 Subway trains take around 30 minutes from central stations like Shinjuku and Tokyo. Tobu Skytree Line trains take around 25 minutes from Asakusa.
Getting To Tokyo Skytree by Buses:
Direct buses operate from major transport hubs to Skytree Station, including Tokyo Station, Tokyo Disney Resort, and Haneda Airport. Travel time is 40-70 minutes depending on origin.
Getting To Tokyo Skytree by Taxis:
Available from any nearby train station. Short taxi rides to Skytree from Oshiage Station or Asakusa Station take 5-10 minutes. Expect to pay around 500-800 yen.
The Tokyo Skytree is also walkable from Asakusa Station in about 20-30 minutes. Regardless of transportation method, be sure to allot ample time when traveling to Skytree to account for ticketing, waiting in potential lines, and passing through security. Advanced ticket reservations are highly recommended to save time.
Tokyo Tower: Japan's Eiffel Tower Iconic Landmark with Classic Tokyo Views
With its distinctive crimson facade towering over Tokyo since 1958, Tokyo Tower is an enduring landmark that provides visitors classic panoramic views of the lively capital. Though newer and taller observation decks exist today, Tokyo Tower remains a must-see attraction for its retro charm and central location.
The Tokyo Tower Information
Standing 333 meters high, Tokyo Tower was Japan's tallest structure from its completion until 2012.
The design took inspiration from the Eiffel Tower, but with a lighter, more earthquake-resistant structure.
Originally built as a TV and radio broadcast tower, it still serves this function today.
Located in the central Minato Ward, Tokyo Tower is easily accessible by public transit.
The Tokyo Tower Observation Decks
Two indoor observation decks are open to the public – at 150 meters and 250 meters.
The lower 150 meter Main Deck offers views of Tokyo's urban sprawl through floor-to-ceiling windows.
Visitors can ascend to the 250 meter Top Deck for bird's-eye views from the city's 3rd highest observation platform.
Tickets range from 1200 yen for the Main Deck to 3000 yen for both decks. Advanced purchases get discounted rates.
The Tokyo Tower surrounding and Foot Town
An entertainment complex at the base has shops, restaurants, and amusements like a retro video game center.
Visitors can learn about Tokyo Tower's history and construction at the Foot Town galleries.
Special events are often held like seasonal illuminations.
Shiba Park and Zojoji Temple are a short walk away.
Visiting Tokyo Tower: Hours and Tickets
Tokyo Tower is open daily from 9am to 10pm (last entry at 10pm).
The Main Observatory remains open until 10:30pm.
There are a few options for purchasing tickets:
Tickets can be bought on-site at ticket counters and vending machines on the first floor of Tokyo Tower.
Purchase a Main Deck ticket for 1200 yen to access the first observation deck at 150 meters.
A combined ticket for both the Main Deck and Top Deck is 3000 yen.
Buying tickets online in advance offers discounted rates and lets you reserve a date/time slot to avoid lines.
Combo tickets with access to Foot Town attractions are also available.
The entrance to the tower's base and Foot Town complex is free, but you need a ticket to access the observation decks.
On high traffic days like weekends, it's recommended to buy advance tickets online and come early in the day.
Plan to arrive at least 30 minutes before your reserved time slot if you have advance tickets.
Expect to spend 1.5-2 hours minimum to visit both decks and Foot Town.
The Tokyo Tower Visiting Tips
Subway stations like Akabanebashi and Kamiyacho are a 5-10 minute walk from Tokyo Tower.
Expect to spend at least 90 minutes visiting both observation decks and Foot Town attractions.
Go in the late afternoon to catch sunset views and romantic evening illuminations of Tokyo.
Consider pairing a visit with nearby neighborhoods like Roppongi or Odaiba.
Though newer observation decks exist, Tokyo Tower remains an essential Tokyo experience for its retro style, charming historic character, and idyllic views of bustling Tokyo from its central Minato city location.
Getting to Tokyo Tower Directions
Here are some directions on how to get to Tokyo Tower:
Tokyo Tower is located in the Minato Ward area of central Tokyo, about a 15-20 minute walk from major train stations. Here are directions to reach Tokyo Tower using public transportation:
Getting to Tokyo Tower From Shinjuku Station:
Take the JR Yamanote Line train from Shinjuku to Hamamatsucho Station (about 25 mins).
Exit the station and walk west towards World Trade Center Building.
Turn right on Kaigan Dori street and continue walking for about 15 minutes.
Tokyo Tower will be visible and located on the left side.
Getting to Tokyo Tower From Tokyo Station:
Take the Marunouchi Subway Line from Tokyo Station to Akabanebashi Station (about 10 mins).
Exit the station and walk south for about 5 minutes.
Turn left when you reach Shiba Koen and continue walking west.
In about 10 minutes you will reach Tokyo Tower.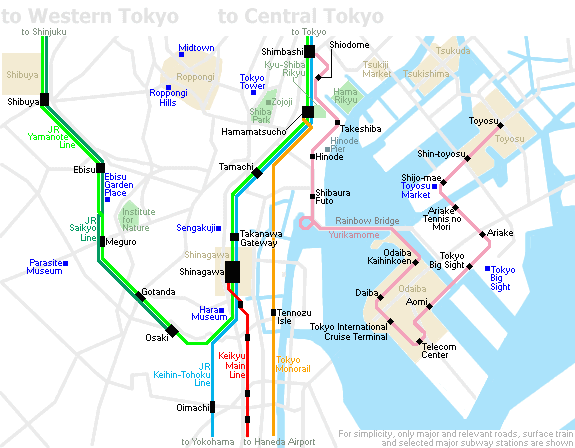 Getting to Tokyo Tower From Roppongi Station:
Take the Oedo Subway Line from Roppongi Station to Akabanebashi Station (about 5 mins).
Follow the directions above from Akabanebashi Station to reach Tokyo Tower in a 15 minute walk.
You can also take a taxi directly to Tokyo Tower from any major train station. Another option is to take tourist buses that offer direct connections to Tokyo Tower from destinations like Haneda Airport. Give yourself plenty of time when traveling to account for ticketing, potential lines, and passing through security.
Now get out there and start planning that Tokyo trip! This bustling capital is waiting for you. Whether you ride to Skytree or Tower first, the cityscape panoramas from atop these towers will take your breath away. Now get climbing!
Planning a trip to japan:
Ultimate japan travel planning Guide
find these helpful japan articles and resources to plan your ultimate trip to Japan:
booking Resources for your Trip To Japan:
Tokyo City Guide:
Kyoto City Guide
Takayama City Guide
Kanazawa City Guide
Japan Travel Guide: