Le Bora Bora By Pearl Resorts Review – Luxury Bora Bora Resort
by Coco Tran On September 10, 2023
Le Bora Bora By Pearl Resorts Review – Luxury Bora Bora Resort
WORDS BY Coco
I had the wonderful pleasure of staying at Le Bora Bora by Pearl Resorts for my honeymoon. This was not a sponsored stay. I picked Le Bora Bora by Pearl Resorts after doing extensive research on the best Bora Bora Resorts to stay at. I had a list of my absolute must-haves and Le Bora Bora checked off all the boxes.
So if you are looking for an honest review( bora bora reviews )and a first-hand experience, you've come to the right place! So without further ado, here's Le Bora Bora by Pearl Resorts review: dining, resort, over-water bungalows, and service.
In This Article: Table of Contents
Le bora bora by pearl resorts hotel review: bora bora reviews
IS BORA BORA WORTH IT?
Absolutely yes! It's the most beautiful tropical place I've visited to date, it has been my dream honeymoon location. I've patiently accumulated points for years to make this trip happen.
It's beautiful and pristine, it still feels not commercialized beyond recognition.
The culture is beautiful and the people are sincere.
The BEST Diving and snorkeling! The water is so clear and the snorkeling and diving is out of this world and deserve their own post. The marine life is intact and abundant. There are so many tropical fish and marine life! I've never seen anything like it, and I've been snorkeling in many parts of the world. It's like a scene from the little mermaid. It is the most magical experience I've had snorkeling.
It makes me so happy the reef is so alive and well preserved.
Truly a little paradise, a slice of heaven on earth.
Le Bora Bora Pearl Resort is a luxury 4-star resort located on the island of Bora Bora in French Polynesia, Tahiti. Le Bora Bora By Pear Resorts has gone through an extensive renovation in 2022 and now has reopened. We were lucky to stay here and be one of the first few guests as the timing worked out great for us. Pearl Resort Bora Bora is known for its stunning overwater bungalows, which offer breathtaking views of the lagoon and the surrounding mountains. The bungalows all have private decks and direct access to the lagoon.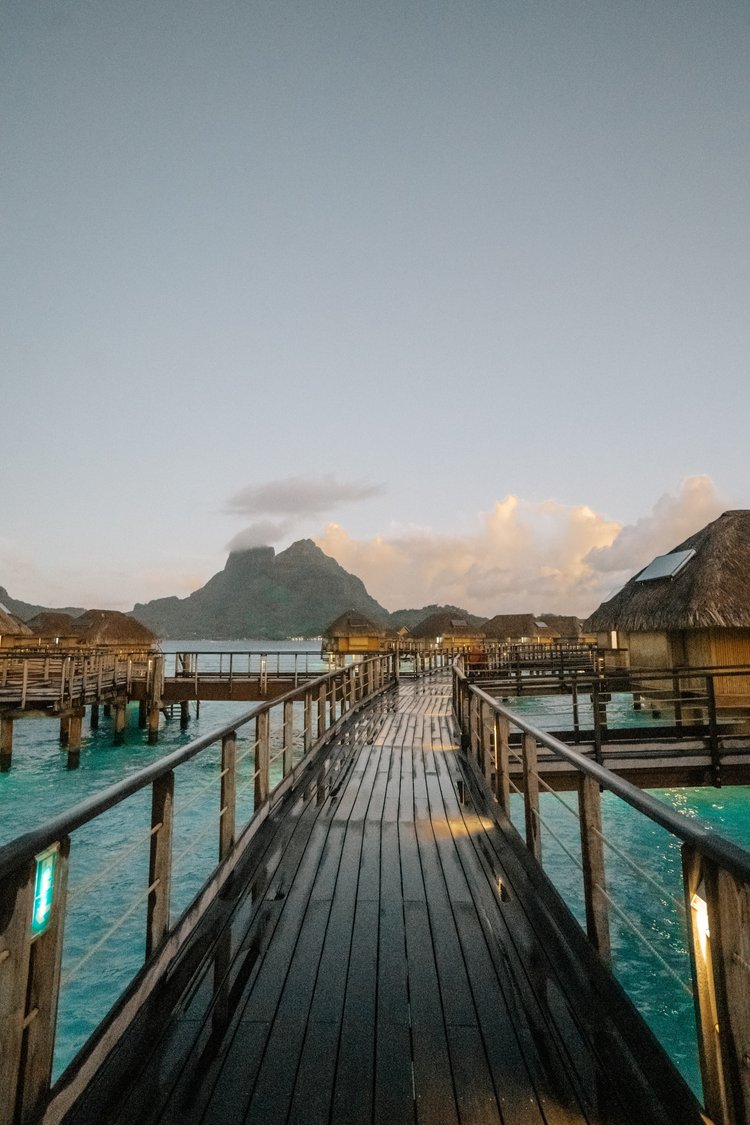 WHERE IS LE BORA BORA PEARL LOCATED
Le Bora Bora By Pearl Resorts is located on the northwest of Mount Otemanu on the island of Tevairoa.
It is on its own private island
It's Hotel Bora Bora which is the closest resort to Bora Bora's airport — A great perk since the cost of the boat transfer is the most affordable out of all the resorts.
It is also conveniently close to the main town of Vaitape, where the main grocery stores are!
TIP— the cost of the transfer was 80 USD per person when we went in March 2022. Therefore, it is a great bargain compared to St. Other resorts that charge 300 USD round trip per person.
The hotel offers many wonderful complimentary amenities and additional paid experiences. My favorite was the views it offers from the private beach of the bungalows in the background. They also have the BEST complimentary to-order breakfast. The highlights are :
Overwater bungalows with private decks and direct access to the lagoon
Four Restaurant
Swimup bar
Outdoor swimming pool
Fitness center
Spa
Water sports like Kayak, paddle boarding, snorkeling, diving, and more
Snorkeling at their coral reef
Tennis Court
wonderful tropical garden
Concierge
Complimentary WiFi
Business center
twenty four hour front desk
Room service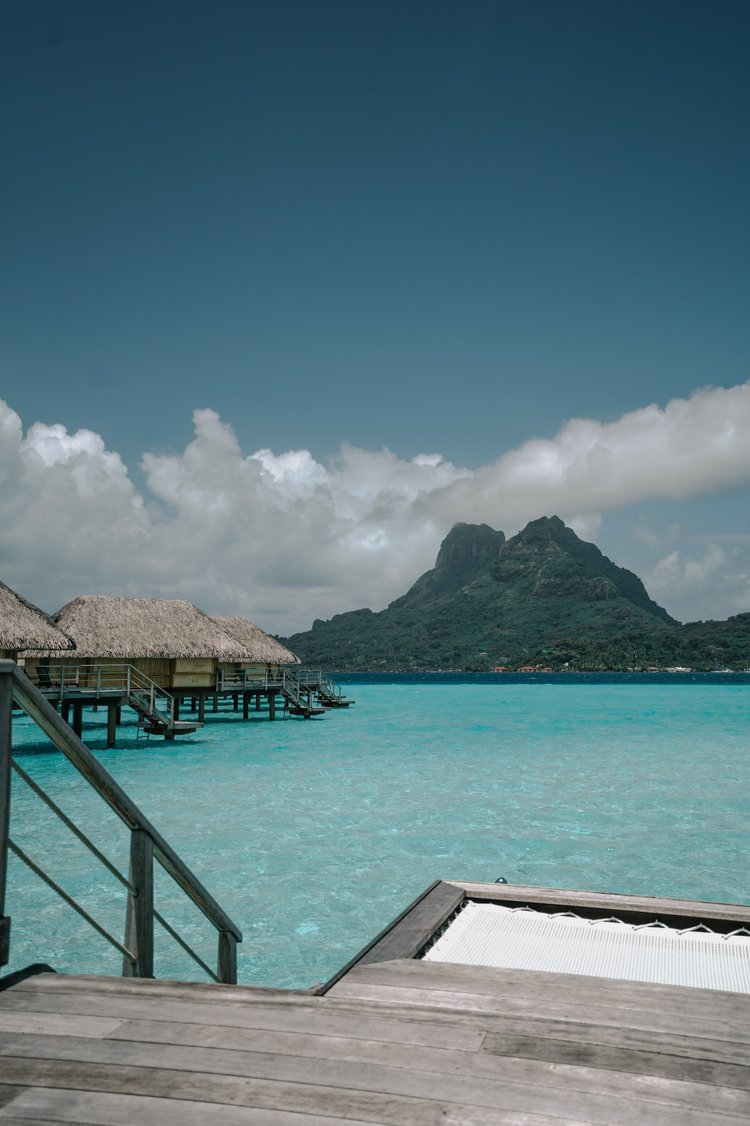 Four onsite restaurants offering a variety of cuisines.
POERAVA GOURMET RESTAURANT: Indoors upscale—offers a fine dining experience in an intimate and cozy setting.
MIKI MIKI RESTAURANT: An open air, casual vibe, by the pool or on the beach
OTEMANU RESTAURANT: Open air, semi-casual, it's located on the top floor it offers breakfast is served buffet-style views of the lagoon and Mount Otemanu, while dinner gives you the option to dine under the starlit sky. The breakfast was wonderful and definately a great perk!
Breakfast 7:00am to 10:00am
Dinner 6:00 pm to 9:30 pm

Otemanu features international cuisine with a creative French Polynesian touch.
On Mondays and Fridays, there is an awesome live Polynesian show with a buffet !
UAINA BAR: It's an intimate bar in an indoor setting, offering a view of Mount Otemanu and sushi.
HOW IS THE BEACH AT LE BORA BORA PEARLS RESORT?
HOW IS THE SERVICE AT LE BORA BORA PEARL?
The room service is impeccable— there is room service three times a day. You're always greeted with a smile and a friendly hello in Tahitian.
WHAT ROOM TYPES DOES LE BORA BORA OFFER?
A variety of selection of different room types. We stayed in room 305 and had the best unobstructed view of the mountain.
Garden Villa with Pool
Beach Villa with Pool
Overwater Bungalow Lagoon
Overwater Bungalow Otemanu: This is the room we stayed at. More details below
Pantoon Overwater Villa at The End
Overwater Suite with Pool
Royal Beach Villa with Pool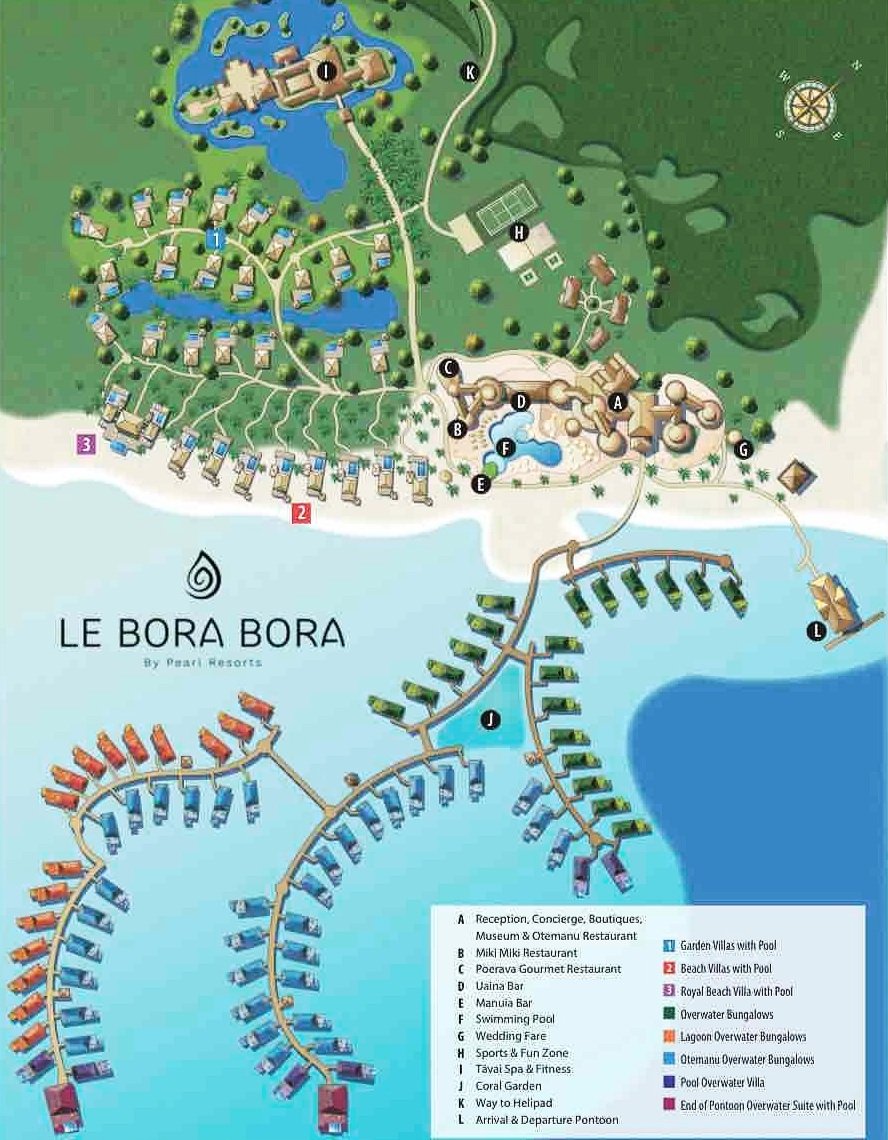 WHAT ACTIVITIES ARE INCLUDED?
tennis court, ping pong, pétanque and a fully air-conditioned gym, snorkeling gear, non motorized water sports.
HOW MUCH IS THE COST OF THE OVERWATER BUNGALOWS AT LE BORA BORA?
The overwater Bungalows at Le Bora Bora Pearl Resorts start at 650 USD and go up to 2000 USD a night depending on the season and dates. However, we stayed for free because I used points. If you'd like to learn how I did that check out this post.
Le Bora Bora by Pearl Resorts Review
The Check in and check out at Le bora bora by peal resorts
5 / 5
The check-in time at Le Bora Bora Pearl is at 2 PM . We arrived early in the morning at 9 am way ahead of check-in time, but they were gracious to let us check in early. The overall check-in process was speedy and so welcoming
We were greeted with a crown and lei as well as a welcome nonalcoholic drink
They offered to leave our luggage and gave us a different room to shower and change in while our room was getting ready. Which felt wonderful after a long day of traveling.
Checkout was easy and quick, we checked our itemized bill, we saw an item we didn't recognize, and after alerting the front desk. They immediately verified and took it off our bill.
The Resorts Location Le bora bora by peal resorts : le bora bora by pearl resorts review
5 / 5
The location was one of the highlights and why I booked at Le Bora Bora by Pearl Resorts here are some of the highlights:
Le Bora Bora resorts closest to the airport and therefore the most affordable boat transfer—it only cost us 80 USD round trip per person.
convenient to the main town of Vaitape
the most stunning beach and the view from all the overwater bungalows of Mount Otamanu
the most spectacular sunrises—on the side of the mountain offers the best and most epic sunrises. Swimming in the morning while enjoying the sunrise was one of the most unforgettable experiences I'll carry with me.
the best beach and private beach sandbar and it stretches for miles. You do not need to know how to swim. Depending on the tide, the water is less than waist deep (I'm 5'2) for miles. Imagine sitting in the water and walking for hundreds of feet with the water only grazing your bum. It was best to have calm waters and be able to sit and relax!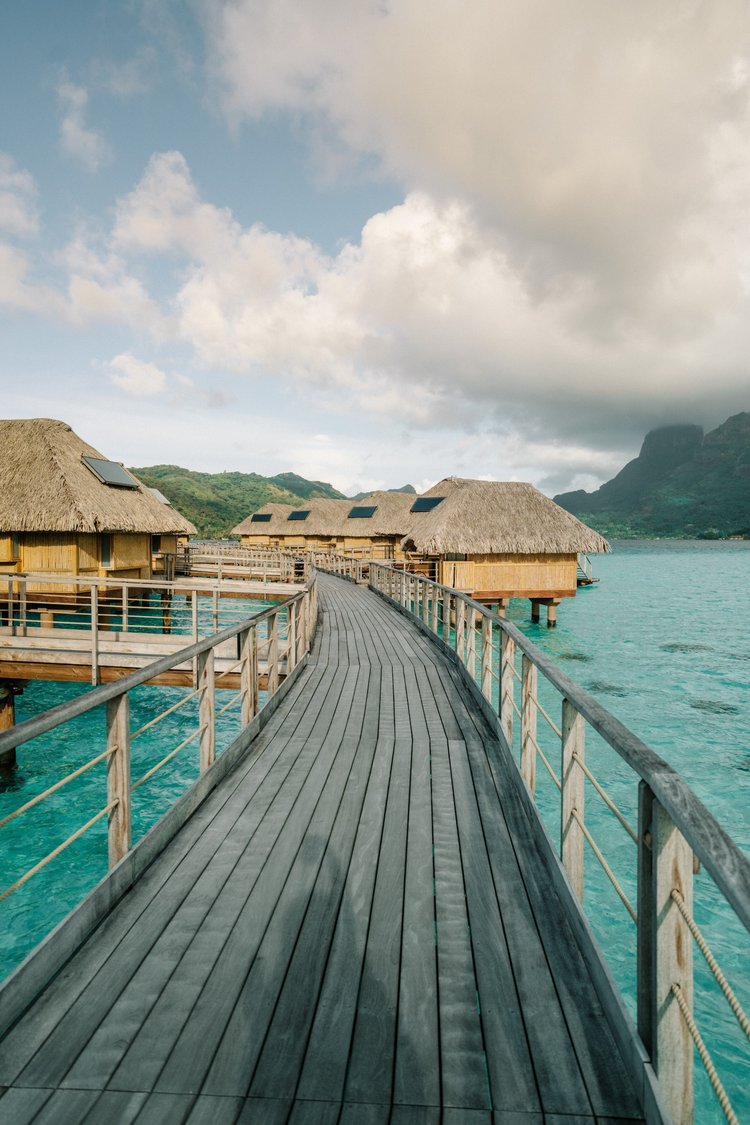 The Overwater Bungalow at Le bora bora by pearl resorts :
5 / 5
The overwater bungalow at Le Bora Bora we stayed in was decorated in the traditional Polynesian style. Wood carvings, they had a special honeymoon welcome sign heart-shaped design with roses and an elegantly decorated room.
Room service 3x a day, which truly blew me away. Every time we came back to our room it was cleaned and decorated.
The rooms are spacious for two. It had a king-size bed a chair, and a small sofa.
A nice outdoor deck with stairs to access the water, and a loungy hammock to lay on. There were also two outdoor lounge chairs to lie on.
A moderate amount of privacy on the deck, you can see your neighbors if they are in the water, but you can't see inside the rooms and just a bit of their deck. The glass doors have a privacy mirror reflection design on it which was great.
The Special Amenities at Le bora bora by pearl resorts : le bora bora by pearl resorts review
5 / 5
The amenities and highlights of staying at Le Bora Bora Pearl Resort are:
The resort gave us an awesome honeymoon welcome platter of fruits and a small bottle of champagne with two glasses! It was such a nice touch
Daily refill of Tahitian floral body oil and lotion, The national flower smelled divine!
Wonderful coral reef to snorkel in with plenty of marine life.
The most beautiful private lagoon beach with an iconic palm tree and overwater bungalows in the background. There were no large waves so it was nice and calm to sit and lay in.
One of the most stunning piers with the most beautiful view of Mount Otamanu in the background
Each overwater bungalow has a clear glass window in the floor to look at your own personal coral reef with colorful fishies
free daily restocked mini fridge with chips, local beer, juices, sodas, Nespresso machine and pods, and ice bucket for free
There are free planned group activities each day; flower crown making, and poisson cru making class (i loved this!) .
Free boat shuttle to the town of Vaitape —check with the concierge for the time schedule.
The Restaurants at Le bora bora by pearl resorts : le bora bora by pearl resorts review
4 / 5
We ate at Miki Miki and the main restaurant for dinner, and the breakfast buffet was the most.
We loved the breakfast included daily in our stay—it was a la carte with made-to-order lattes and an omelet station. A large selection of fresh fruits and buffet-style offerings.
prices are reasonable compared to other hotels for lunch or dinner
the quality was decent, as a foodie, It was just standard and nothing special. The food often times was very bland and lacked depth and flavor.
the bar was wonderful and had a daily happy hour of 50% off that we took advantage of
room service was also a wonderful experience and I highly recommend it
The price and Cost overwater Bungalows at le bora bora by pearl resorts review
5 / 5
After comparing all the best hotels in Bora bora, we decided Le Bora Bora by Pearl resorts was the overall best value for the service and amenities! I would stay here again and would absolutely recommend it. We were able to use points to stay here for free
We went in March and stayed for 6 nights, at an average of 670 USD a night. such an excellent value. It would have been a total of 3900 for two persons for 6 nights. Although we were able to use points to make this trip happen
Overall Review of le Bora Bora Pearl Resorts : le bora bora by pearl resorts review
4.5 / 5
My personal experience:
I really enjoyed my stay at Le Bora Bora Pearl Resorts! It was the perfect place to enjoy our honeymoon. Here are my thoughts and feelings about why I loved this resort so much! You definitely should stay here (and I'm not getting paid to say this and this is not a sponsored post because I would definitely be transparent about that)
It's in its own motu (islands)
The resort isn't massive or tiny, it's a perfectly reasonable size. It didn't take us forever to walk from our bungalow to get dinner or breakfast which was fantastic!
the service is wonderful, 3 X a day our room was cleaned.
You get breakfast that's delicious included if you book through here
The resort is facing the mountain and has the perfect sunrises. As one of the only few resorts that gets magical sunrises it la really a peaceful way to experience the beauty and sights when you're enjoying your coffee from your deck!
the bungalows are private and every overwater bungalow has a view of the mountains
The water isn't deep!! It's a shallow sandbar for miles! I know some other resorts the deeper your bungalow is the deeper the water is and you definitely wouldn't be able to just sit in the water! I think this is something a lot of people don't think about but it's absolutely amazing to just sit in the water.
their private beach has some of the most stunning views for photos! And their beach is also shallow and calm. it feels like a pool which is amazing
The resort is new! It's been renovated from top to bottom
Book this resort if you want amazing value for your money. You really can't beat the price of this resort compared to other resorts that cost twice the amount.I promise you'll be glad you did! And if you book let me know what you loved most about it!
I highly recommend this resort. Le Bora Bora Pearl offers tremendous value for a delightful experience.
Have you visited Le Bora Bora Pearl Resort? Or are you planning to? If you decide to stay let me know in the comment below. I'd love to hear about your experience.
xoxo,
Coco
Bora Bora planning Guide
Resources:
Bora Bora Guides
Bora Bora Activities